The Only Electric Moke In America.
Introducing Moke America: A 20th-century collectible car reinvented with 21st-century green-friendly electric power, available exclusively in the USA.
Moke Colors
With 13 colors to choose from, different seat materials and roof tops, as well as a large choice of accessories and customizations you can create your very own Moke.
General
Model: EMC-95A

Power Type: Electric Battery Vehicle

Endurance Mileage: 40

Max Speed: 25 mph

Max Gradability: 60%
Body
Length: 131 inches

Width: 65 inches

Height: 61 inches

Wheel Base: 89 inches

Front Wheel Tread: 59 inches

Rear Wheel Tread: 50 inches

Unladen Mass: 1050 kg

Seating Capacity: 4

Luggage Capacity: 25L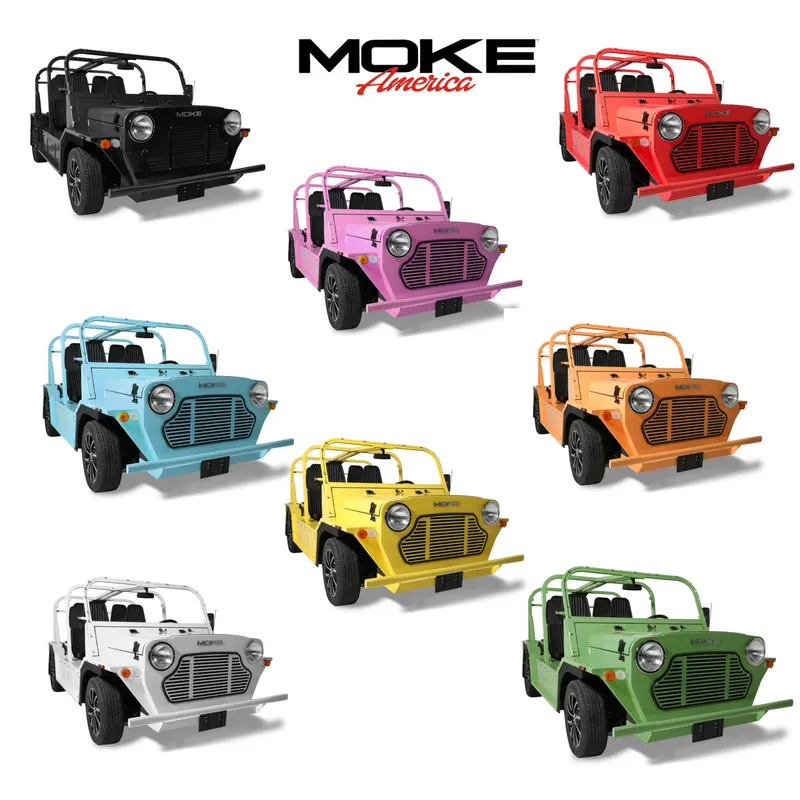 Wheel Braking System
Front Brake Type: Disc
Rear Brake Type: Drum
Parking Brake Type: Hand Brake
Front Tire Size: 175/60R14
Rear Tire Size: 175/60R14
Spare Tire Size: 175/60R14
Chassis & Steering System
Drive Mode: Front Wheel Drive (4×2)
Drive System: Left or Right Hand
Front Suspension: McPherson Independent
Rear Suspension:: Lengthways Trailing Arm
Steering Mode: Hydraulic Steering
Motor / Battery 
Battery Type: AGM
Battery Capacity: 12 kwh
Charging Time: 6-8 hours
Motor Type: Three-phase, AC, Asynchronous
Motor Rated Power: 7.5 Kw
Motor Max Power: 15 Kw (20 Ps)
Max Torque: 95 N.m
Max Speed: 6800 r/min
Accessorize Your Moke
From Bimini top to bluetooth radio, from wood steering wheels to surf rack, we offer a wide range of accent pieces that will make your Moke stand out even more.
Modular Seats
All 4 seats are waterproof and the rear seat on the Moke is multifunctional. It can be secured in the upright position, it also can be folded for flat cargo space or completely removed.
Bespoke Your Moke
Moke vehicles are assembled in America and with over 1,000 ways to customize you can rest assured that you will absolutely love your Moke.
Plug & Play
Electric Mokes can be charged in any household 110 outlet. Simply plug it into any household outlet. A full charge takes 8 hours and last for 40 miles.
It's Electric
Most importantly, we wanted the Moke to be green. There's an electric revolution in Europe, and countries like the Netherlands are going to have entirely electric cars by 2024. It was obvious that this endeavor had to be electric.
Built In America
The biggest components of the Moke are made in America, including the glass, seat belts, tires and batteries. All ten batteries are made in America. The product is assembled here on American soil. If you have a problem with the batteries, we have them right here on the shelf.